"My Author is Dead"
Short cut to: Reviews, Reading Group Guide, Movie Rights, and Notable Facts
Not your Usual Dystopia.
Not your Usual Satire.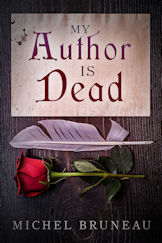 For sure, Adam is weird—although "weird" is all relative. Weird is problematic, but tolerable. What's forbidden though is talking to Kafkaists, who are nothing but dangerous worms guilty of "moral turpitude"—cockroaches that the Author most probably forgot to erase. So helping Kafkaists wasn't the brightest thing to do.
Unfortunately, he didn't have a choice. For one, June was a Kafkaist—cockroaches can't possibly have such dazzling blue eyes. Second, well… he had to make things right.
All he needed was a plan. An infallible plan. In normal circumstances—although "normal" is all relative—it's that simple.
If only Adam was good at making plans.
Paperback: 305 pages
Publisher: CePages Press
Language: English
Print Edition:
ISBN-10: 0982475284
ISBN-13: 978-0982475287
Product Dimensions: 8.5 x 5.5 x 0.8 inches
E-book Edition:
ISBN-10: 0982475292
ISBN-13: 978-0982475294
Download a FREE PREVIEW copy (PDF format): HERE

Awards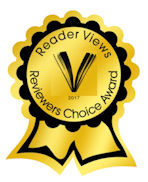 Winner, 2017 Garcia Memorial Prize for the Best Fiction Book of the Year
and Winner, 2017 Reader Views Reviewers Choice Award - 1st Place in the Fiction Novel category

Awarded by a panel of judges who are experts in their fields (as well as avid readers), on the basis of content/originality, presentation/design, innovation, social relevance, production quality, enjoyment/impact, and plot/story line. The Readerviews commendation of the novel's unique qualities is reported in the "Reviews" section below.
Reviews
"Initially the reader may wonder where the story is going, but those who stick with the book are in for a real treat (...). If causing readers to think about who is in control was Bruneau's objective, then he nailed it. Originality: 10 out of 10 "
— Booklife (by Publishers Weekly), September 2016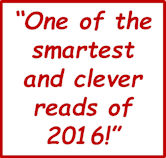 "Bruneau is a genius of undertones, and you can tell he really enjoyed playing with this talent in "My Author is Dead." Because of all the fun he must have had creating the plot, we readers now have one of the smartest and clever reads of 2016. His writing style is vivid. His characters are so genuine I forgot at times that they were characters in a book. The story was so captivating it took me away into its plot and wouldn't let me go, not even in the rare moments I managed to put the book down. This is a book that readers should make time to read to savor its clever cynical tone. I didn't the first time I read it and couldn't imagine not wanting to read it again, so I did, but took my time to enjoy the ride. Although it can be an easy read, I truly enjoyed it even more the second time around when I read it over the weekend with no rush or constant interruptions. Overall, "My Author is Dead" by Michel Bruneau is a very well written, five-star, unique, clever, fun, and memorable read. Not your average book! "
— Readerviews, January 2017

"This is the story of a society divided by a wicked belief system, and the boy who defied the rules. My Author Is Dead by Michel Bruneau is a deeply gripping Kafka-esque story that explores social divisions and injustices, love, and defying the rules. (...) The central character's unique take on the way of life around him and beyond is one of the story's main hooks. Even in his darkest hours, Adam's unique look at things never fails to lighten the mood for the reader. Michel Bruneau used an engaging sense of humour and cynicism to infuse some light into the gloom that formed the general mood of the story. - 5 Stars."
— Faridah Nassozi for Readers' Favorite, October 2016

"My Author Is Dead is a splendid tale, that gives meaning to the phrase "outside of the box" (...) I'm only sorry I could not give it 10 stars, rather than just 5."
— Amazon.com Reviewer, September 2017

"If you enjoyed "If on a Winter's Night a Traveller" by Italo Calvino, or indeed the works of Kafka himself, you'll love this. (...) This narrative interspersed with comical entries from the stolen dictionary ("[Eu·nuch. Noun. Pointless ape, insensitive to freezing cold]") raises fascinating issues about the nature of belief and the power of words. I highly recommend this book. "
— Amazon.com Reviewer, October 2017

"This is a fascinating and well-written, genre-defying story that fans of Kafka, young adult literature, and libertarianism will enjoy. It's kind of set in a dystopian future where absurd rules are sancrosanct. If you're looking for a smart read, touching on real political issues in a metaphorical way, this is for you. "
— Amazon.com Reviewer, September 2016

"Stranger than Fiction, but better. I really enjoyed reading this one right from the get-go."
— Audrey Terry, Goodreads Review, November 2016
"A fascinating story. It is perfect for Kafka fans. (...) Once I started reading, I just couldn't put this down. (...) Very cleverly thought out and written in an engaging and quirky manner. (...) Great book, I love the writing style and highly recommended for anyone who wants an entertaining read. - 5 Stars."
— Anne-Marie Reynolds for Readers' Favorite, September 2016
"My Author Is Dead is a strange book which carries with it some unsettling, though thought provoking, concepts. (...) Cleverly crafted, it pokes and prods at the very basis of perception and reality while spinning a charmingly tangled love story. I would recommend that you read this book with no preconceptions and an open mind. - 5 Stars."
— Charles Remington for Readers' Favorite, October 2016
"The characters in My Author Is Dead definitely do have an unusual outlook on life. This will lead to many surprises for readers. (…) The more you get into the story, the more you get drawn in. (…) I enjoyed how some of the current political problems can be found in the story; not obvious, but in a very well done way that makes you think (a lot). This book is a strange read - but also strangely compelling. (…) In a world where so many books are the same, this is a very pleasant surprise! 4 Stars."
— Kim Anisi for Readers' Favorite, November 2016
"My Author is Dead is a book that I will be recommending to others. (...) Michel Bruneau really hit a big one with this story. - 4 Stars."
— Samantha Dewitt (Rivera) for Readers' Favorite, October 2016

"Even the villain of the story Cassandra was developed so well you couldn't help but feel bad for her later on. I highly recommend this novel."
— Amazon.com Reviewer, August 2017

"If you like being challenged and provoked to deep thought about social issues and morals and enjoy books written in a flowing and humorous style, you will enjoy reading "My Author is Dead.""
— Amazon.com Reviewer, August 2017

"Much like a Kafka story. It has all the hidden meanings and much more. (...) A solid 5 stars."
— Amazon.com Reviewer, August 2017

"No dull moment in the book. The humorous dialogues and thoughts of the characters keep the seriousness of the plot from taking away the entertainment. "
— Amazon.com Reviewer, September 2017

"Je me suis laissé prendre par cette histoire de procès dans un village de morons. J'aime la façon que les idées dansent sur la page et toujours cet humour décalé. Les personnages secondaires sont pissants de vérités et l'intrigue nous tenaille. Un vrai bonheur." Approximate Translation: "I have been won by this story of a trial in a village of morons. I love how the ideas dance on the page and the offbeat humor. The secondary characters are truthful caricatures and the plot is gripping. A true pleasure."
— Amazon.ca Reviewer, September 2016
Interviews
UB Now
November 2016
Reading Group Guide
Reading Groups and Book Clubs: Please download the Reading Group Guide for "My Author is Dead" here.
Steven and Ron (Spieldberg and Howard that is) have not called yet, but the phone should ring any minute now. If you wish to acquire the movie rights first, I'll be pleased to talk to you, unless you envision turning some characters into vampires or cast "the Fonz" in the lead role (although, I could be convinced otherwise if Henry Winkler calls me up personally).
Notable Facts
Studies conducted in controlled environments by unbiased experts have demonstrated that reading "My Author is Dead" could improve interpersonal relationships and add years to your life expectancy (as long as you don't drive or operate heavy machinery while reading). It would be wise to experimentally verify this odd phenomenon with the people you love.

Note: This "Michel Bruneau" should not be confused with his namesakes who have written books on acoustics, mathematics, or history, and most certainly not with the one who has written cookbooks (the birthday cake the author of "The Emancipating Death of a Boring Engineer" once lovingly baked for his wife made her wonder if he was trying to poison her, so don't bother asking him for recipes).