"Shaken Allegiances" - Published October 2009
Short cut to: Awards, Reviews, Interviews, and Notable Facts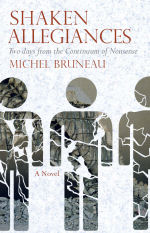 Shaken Allegiances spans 48 hours in a world askew—almost absurd—just after a devastating earthquake has struck and isolated Montréal Island in the dead of an icy winter, one week before a referendum on Québec's secession from Canada. No power, no communications, no access, and -40°F, but no heroes to the rescue; no Schwarzenegger, no Stallone, no Charlton Heston. Provincial and federal politicians are busy waging an ideological war, while coordination of emergency response is in the hands of a lunatic; a structural engineer and a disc jockey form an odd couple in their pursuit of fame, while the frustrated media seek ways of leapfrogging the collapsed bridges to undertake some disaster tourism of their own. Their fortuitous encounters, and problems with quirky opportunists, converge to help make things worse. Kafka would feel at home.
Shaken Allegiances jolts with a disturbing and witty projection of today's unbridled narcissistic society, a disaster in full bloom that has sprung from the seeds of individualism planted in the 1980s. Its colorful characters, quixotic, ambitious, rapacious, self-righteous, naïve, conceited, moronic, lost, or otherwise flawed, provide a fresh, entertaining and cynical view of the inescapable human folly.
Paperback: 420 pages
Publisher: CePages Press
Language: English
ISBN-10: 098247525X
ISBN-13: 978-0982475256
Product Dimensions: 8.5 x 5.5 x 0.8 inches

Awards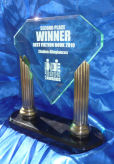 Winner, Grand Prize, 2nd Place, Fiction, 2010 Next Generation Indie Book Awards
Winner, 1st Place, Regional Fiction, 2010 Next Generation Indie Book Awards
Press Release
The Next Generation Indie Book Awards program has been said to be the 'Sundance' of the book publishing world. The competition, judged by leaders in the indie book publishing industry, identifies indie books that deserve to reach a wider audience. More than one million books are published nowadays in a typical year; more than three-quarters of those are indie books, namely books released independently of the major conglomerates that dominate the book publishing industry.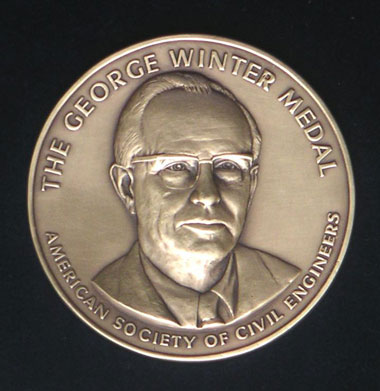 2011 Winter Award, American Society of Civil Engineers, "For contributions to structural engineering and seismic hazard mitigation and contributions to creative fictional literature which succeed in telling the hazard mitigation story to a broader audience" (UB Press Release)
Reviews
« [Une] façon de présenter [les] personnages qui sort tout à fait de l'ordinaire. (...) Les aspects techniques sont passionnants. (...) Tout est là pour nous faire peur, nous faire frissonner, nous faire penser aux catastrophes possibles. Moi, ça m'a beaucoup plu.»
— Anne-Josée Cameron, Ça me dit de prendre le temps, Première Chaîne de Radio Canada, Juillet 2010
Approximate Translation: "A way to present characters that is absolutely out of the ordinary. (...) The technical aspects are riveting. (...) Everything is in place to frighten us, chill us, make us think about the possible catastrophes. I liked it a lot."
— Anne-Josée Cameron, Ça me dit de prendre le temps, Première Chaîne de Radio Canada, July 2010

"An earthquake cuts off Montreal Island from the world, and a whole circus of Canadian politics, media, and so much more erupt around it. A cynical and humorous look at the Quebec issue and modern Canada, "Shaken Allegiances" is uniquely Canadian and deserves a place in world fiction collections." — Midwest Book Review, November 2009
« Quand on regarde la façon dont les autorités politiques et civiles réagissent, on se dit que le tremblement de terre, finalement, c'est un moindre mal. (…) Ils travaillent tous pour leur agenda personnel. (…) Y'a personne qui trouve grâce à vos yeux! »
«Les personnages ressemblent parfois, à si méprendre, à des vrais personnages qu'on rencontre dans nos différents parlements.»
« Une mise en garde à vos lecteurs (…) pour leur faire comprendre dès le départ qu'ils vont être confrontés à quelque chose qui peut les déstabiliser un petit peu. »
— Line Boily, Grands-Lacs Café, Première Chaîne de Radio Canada, Janvier 2010
Approximate Translation: "Seeing how the civil and political authorities behave, we are forced to conclude that the earthquake, after all, is a lesser evil. (…) They all work toward their own personal agenda. (…) Nobody is spared."
"The characters sometimes resemble, to a fault, those we find in our own different parliaments."
"A warning to your readers (…) to let them know from the outset that they will encounter things that may slightly unsettle them."
— Line Boily, Grands-Lacs Café, Première Chaîne de Radio Canada, January 2010
"Michel Bruneau has set the standard for combining excitement with factual content in the earthquake fiction genre. (...) This is not a book biased against the managerial class—there is also equal time for self-serving unions and opportunistic people working for the print and electronic media, the latter often called journalists as if they were a profession, but seek not in this book for support for that claim. Media-craving structural engineers with slight knowledge but with compensating readiness to promote themselves in front of a microphone; incompetent academics whose lack of talent and expertise have not been barriers to promotion, because they work in academia; a president of the United Sates who is as crass as his Canadian counterparts and never mastered fifth grade geography — this is not a novel in which to find role models. (...) The novel's earthy sarcasm is not a substitute for solid content about earthquakes, but rather an aid in communicating information about that subject. (...) Recommended to earthquake engineering experts as well as to the general public."
— Book Review by Robert Reitherman, Executive Director, Consortium of Universities for Reseach in Earthquake Engineering, published in EERI Spectra, May 2010 (Read Full Review)

"UB Professor Pens Earthquake Novel Perfect for Beach Reading. In SHAKEN ALLEGIANCES, Michel Bruneau has written a "catastrophe novel" that skewers response agencies as if they were shish-kabob. (...) In a minutely detailed scenario, a national disaster puts economics, health, communication, and survival upfront while those who try to fix the problem lag behind. But this isn't just a prescient book, although oil spillage, ash from volcano eruptions, and, yes, earthquakes all have happened since Bruneau began writing this book and even since it was published in October, 2009. Instead, the book is the product of astute observation, a prepared mind, and a droll sense of humor. Because it is a disaster book, it evokes the commercial shivers of The Poseidon Adventure and The Titanic — and when the host of an all-night talk radio show becomes the only sane voice, the book has echoes of Hawkeye Pierce trying to make sense of a world gone mad. But this author is a scholar, and his know-how is in every chapter. Screenwriters, take note."
— Linda Chalmer Zemel, Examiner.com, June 2010
"Sometimes you get a tip on a new book that's one of those proverbial "best-kept secrets," and following up can offer both a good read and a reason to hold your head a little higher while you're standing in line at Starbucks. One such sleeper is "Shaken Allegiances." (...) Frankly, it's one of those books that I didn't want to like, but as soon as I got a few pages into it, I was hooked. (...) Of the two principal things I learned from this book, one came as quite a surprise: The depth of the divide felt by the men and women of Québec - the Québécois and Québécoise - with regard to the rest of Canada. (...) Through the characters in his novel, Bruneau provides insightful background into both the historical roots and the present-day reality of this schism. The other take away was less surprising but more chilling - no pun intended. Through the narrative interwoven with the words, thoughts and actions of the main characters, the author leads the reader to a sobering reflection on the hardships inhabitants might face under the combination of winter weather and a major earthquake. Without dwelling on the physical plight or suffering of any individual, he nonetheless clearly illustrates the bleak situation in the aftermath of such a calamity. (...) This novel is a good read. And in the end, the author's mission is accomplished. He has made us think. "
— Blog "What I learned today - A running journal of the day's little joys that might otherwise slip away unnoticed, March 2012 (Read Full Review)

"Bruneau draws on his experience in radio, as a technical and political leader of an earthquake engineering research centre, and as an observant human to tell a fictional storey about interesting and moderately dysfunctional organizations and people. With themes similar to Allison's "Essence of Decision: Explaining the Cuban Missile Crisis", Bruneau explores the way crisis decisions can be made based on national, organizational and personal priorities. The background is a significant earthquake in Montreal. The media are trying to get news - any news - and to find out who is responsible. The national and provincial governments and their organizations have conflicting priorities. They are trying to hide their incompetence, appeal to their own constituents, as well as possibly doing some good. As part of, and amidst, these conflicts we meet a number of modern-day characters whose strong self-belief and self-concern significantly affects their own decisions. These characters represent a number of personality types. None are perfect but all are interesting. In them, it is not difficult to recognize a number of our colleagues, and perhaps too, a little of ourselves. Bruneau uses his quick, direct and pointed writing style to describe this earthquake scenario, to provide us with some diverse perspectives of the history of the Quebec region and an appreciation of some of the things that could go wrong in post-disaster response.
— Amazon.com Reviewer, July 2010

"Shaken Allegiances" drops us into a world that has credibly gone cockeyed, right into the aftermath of a catastrophic earthquake. (...) Despite Bruneau's reassurances that his characters are purely fictional, you might feel the urge to "google" certain personages you encounter throughout the story. His post-catastrophic world resonates with truth in all the right places. (...) It's not often in this day and age that a well-known engineer also turns out to be a gifted novelist and satirist. The result is truly a gem. "Shaken Allegiances" is a once in a lifetime read you cannot afford to miss.
— Amazon.com Reviewer, June 2010

"In his novel "Shaken Allegiances," Michel Bruneau deftly mixes the disaster genre with political satire, the product of which is unique and inimitable. (...) Bruneau is a keen observer of human stupidity, and his characters are both laughably absurd and uncomfortably believable. I would highly recommend "Shaken Allegiances" for its straight-faced ironic humor and imaginative plot. It's an amusing introduction to Quebec for the uninitiated. I found it clever, sarcastic, and often hysterical."
— Amazon.com Reviewer, April 2010

"Don't miss this fast-paced and ironic tale-- Michel Bruneau's knack for black humor had me laughing out loud. This novel is also an entertaining way to get a vibe for French Canadian politics, as Bruneau writes from his own experiences of "le patrimoine".
— Amazon.com Reviewer, May 2010

"Shaken Allegiances is an superb novel: full of wit and subtleties."
— Amazon.com Reviewer, May 2010

"The exchange between the US and Canadian leaders and Bruneau's translation is dead on. That alone makes the book worth it. "
— Amazon.com Reviewer, October 2010

"Covers the gamut of human flaws with such skillful satire that you will be laughing out loud. (...) Presents Canadian politics and history in a way that is both entertaining and accessible (if not always flattering.) Definitely a must-read!"
— Amazon.com Reviewer, May 2011

"Wonderfully clever (...) Masterfully uses this natural disaster scenario to symbolize what some call the current downward spiral into which the human race is rapidly plummeting. (...) It wouldn't at all be surprising to see this book assigned as required reading for sociology classes in years to come."
— Amazon.com Reviewer, April 2011
Interviews
Exclusive for EERI Members
or
For non EERI members
Earthquake Engineering Research Institute, June, 2013
by Bob Reitherman
Ça me dit de prendre le temps
Première Chaîne de Radio Canada, July 31, 2010
by Anne-Josée Cameron
Grands-Lacs Café
Première Chaîne de Radio Canada, January 9, 2010
by Line Boily
Engineer leads second life as author
University at Buffalo Reporter, November 20, 2009
By Charlotte Hsu

Notable Facts
Studies conducted in controlled environments by unbiased experts have demonstrated that no gift can bring more joy than receiving multiple copies of "Shaken Allegiances." Feel free to experimentally verify this odd phenomenon with the people you love.

Note: This "Michel Bruneau" should not be confused with his namesakes who have written books on acoustics, mathematics, or history, and most certainly not with the one who has written cookbooks (considering that the author of "Shaken Allegiances" can over-boil water such that it will stick to the bottom of the pan, don't bother asking him for recipes).