Inhumanité - Onze Nouvelles qui Insultent l'Intelligence (in French)
Literal Translation: "Inhumanity - Eleven Short Stories that Insult Intelligence
Synopsis: Approximate English Translation Available Here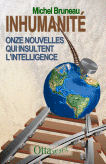 L'humanité est mal en point. De la réalité quotidienne jusqu'à l'échelle globale, la bêtise humaine fait des ravages. Inhumanité présente une vision fraîche, divertissante, et parfois cynique de la nature humaine tout en promenant le lecteur de Montréal à Vienne, en passant par Toronto, Vancouver et la Californie. À travers Onze nouvelles qui insultent l'intelligence, onze personnages, tour à tour, poursuivent des solutions aux problèmes qui les affligent jusqu'à leur aboutissement ultime.
Un sans-abri poursuit son camion d'ordures, une vieille dame s'imagine être mise à l'épreuve par un curé, un adolescent cherche à s'arracher à sa ville déclarée la plus monotone des États-Unis d'Amérique, un homme est entraîné malgré lui dans une relation non-virtuelle, une commerçante est agressée dans sa tranquillité, une mère-porteuse est rejetée par son employeur, un jeune amoureux confond toutes nuances, un homme meurtri recherche la reconnaissance par un acte extrême, un autre veut venger la perte de sa fiancé aux mains d'un ordre religieux, une femme cherche le messie à Toronto, et une autre subit le poids de la survie de l'humanité entière. Situations banales? Pas entre les mains de l'auteur.
Que vous soyez un optimiste ou pessimiste, Inhumanité saura vous inquiéter quant à notre destinée commune.
Status: Available on Amazon: Here
Reviews
"Ce qui m'a particulièrement plu, c'est la plume de Michel Bruneau. Il écrit vraiment très très bien. Tout ingénieur qu'il soit, on voit qu'il a vraiment un vrai plaisir à développer la langue, le style, dans ces nouvelles. (...) C'est vraiment une réflexion sur la pensée humaine et sur ce qu'on fait justement de cette intelligence qu'on dit qui nous sépare des animaux, mais qui parfois nous ramène au rang de certaines créatures très peu civilisées, tout humains que nous soyons. (...) C'est une lecture que je vous recommande!"
Approximate Translation: "Michel Bruneau's fine literary style is particularly pleasing. He writes very vey well. Though engineer he may be, one can tell he has a definite pleasure to craft an original writing style in these short stories. (...) This is truly a reflection on the human mind and what we actually do with this intelligence that pretendedly differentiates us from animals, but which sometimes brings us to the level of certain uncivilized creatures, all human that we may be. (...) This is a recommended book!"
- Nadine Desrochers, CBOF Bonjour (Radio Canada)
"De très bonnes nouvelles! Un univers trouble, troublé, et troublant. C'est très agréable à lire. (...) Michel Bruneau aurait dû écrire des nouvelles avant, pour notre grand plaisir."
Approximate Translation: "Very good short stories! A confused, troubled, and troubing universe. It is most enjoyable to read. (...) Michel Bruneau should have written short stories before, for our greatest pleasure."
-- Monique Lapointe, Place 90.7 (Radio Canada)
Synopsis (Approximate English Translation)
Humanity is in bad shape. From everyday reality to the global scale, human folly is wreaking havoc. Inhumanity presents a fresh, entertaining, and at times cynical view of human nature while traipsing from Montreal to Vienna, via Toronto, Vancouver and California. Through eleven short-stories that "insult intelligence," eleven characters, in turn, seek solutions to the problems that afflict them, driven to their ultimate outcome.
A homeless man pursues his garbage truck, an old lady believes she is bedeviled by a priest, a teenager attempts to run away from a hometown ranked as the most boring U.S. city, a man is dragged against his better judgment in a non-virtual relationship, a shopkeeper is attacked in her quietness, a surrogate mother is dismissed by her employer, a confused lover loses perspective, a wounded man seeks recognition by an extreme act, another avenges the loss of her fiance to a religious order, a woman seeks the Messiah in Toronto, and another bears alone the weight of mankind's survival.
Banal situations? Not in the hands of the author. Whether you're an optimist or pessimist, Inhumanity will leave you perplexed about our common destiny.
Status: Available on Amazon: Here