"The Emancipating Death of a Boring Engineer" - Published October 2012
Short cut to: Awards, Reviews, Interviews, and Notable Facts
An unconventional journey, searching for significant numbers, good wines, the meaning of life, love, and whether it is ever too late.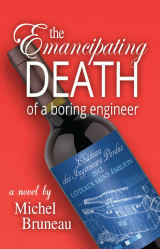 "My casket shall be filled to the rim with 2005 Saint-Émilion." So read the first line of the specific instructions for Keene's funeral—a funeral that nobody would attend, since he had no friends or family. This had to be a mistake. Carmina's ex-husband had never been one inclined towards such exuberance—"he was a boring engineer for Christ's sake." Besides, she didn't want to have anything to do with this sordid story—they hadn't spoken to each other for more than a decade. A story that would have her treasure hunt for junk, with a suicidal, pyromaniac kid in tow, while being courted by the shyest lawyer on earth. Keene didn't have friends, but he sure had quirky acquaintances; each of the eight Carmina has to visit holds a piece of the puzzle.
With its palette of quirky characters, imaginative developments, and unusual perspective on life and death, The Emancipating Death of a Boring Engineer is an inspirational journey that captivates, entertains, and provides food for thought to those of us who happen to know someone who might die someday (rare as it may be).
Paperback: 314 pages
Publisher: CePages Press
Language: English
Print Edition:
ISBN-10: 0982475268
ISBN-13: 978-0982475263
Product Dimensions: 8.5 x 5.5 x 0.8 inches
E-book Edition:
ISBN-10: 0982475276
ISBN-13: 978-0982475270
Read the first two chapters: HERE (or a shorter sample THERE)

Awards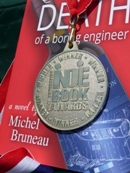 Winner, Best Second Novel, 2013 Next Generation Indie Book Awards

The award is particularly rewarding, knowing how authors fear the "curse" of the second novel (a phenomena also known as the "Second Novel Syndrome"). The Next Generation Indie Book Awards program has been said to be the 'Sundance' of the book publishing world. The competition, judged by leaders in the indie book publishing industry, identifies indie books that deserve to reach a wider audience. More than one million books are published nowadays in a typical year; more than three-quarters of those are indie books, namely books released independently of the major conglomerates that dominate the book publishing industry.
Finalist, Literary Fiction, 2012 Book of the Year Award, Foreword Reviews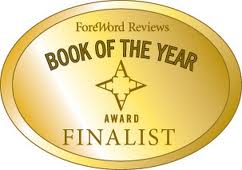 ForeWord Reviews is a literary journal distributed quarterly to 7500 librarians and booksellers, and available at most Barnes & Noble newsstands (ForeWord Reviews is comparable to Publishers Weekly and Kirkus Reviews). The ForeWord Reviews Book of the Year Awards are decided by a jury that includes readers of the magazine, librarians and booksellers, who select the winning titles based on editorial excellence, professional production, originality of the narrative, and the value each title adds to its genre.
Reviews

"Zany with occasional moments of seriousness, the international romp set up by a dying engineer has its shares of ups and downs. (...) As silly as it is to miss someone who has both engineered the idea of filling their coffin with wine and expressed lengthy complaints about the anonymity of engineers in modern society, it is more or less the kind of irrationality that makes love memorable. (...) Seeing a relatable protagonist such as Carmina navigate through a stream of kookiness makes the book worthwhile."
— IndieReader Review, March 2013 (Read Full Review)
"When you divorce them, you're suppose to be free of them. "The Emancipating Death of a Boring Engineer" is a humorous twist of romance from Michel Bruneau, following the death of Keene, the titular boring engineer. Camina, his ex-wife ends up charged with carrying out his last wishes despite not talking to him for a decade. Faced with many strange characters that weren't her former husband's friends but apparently come out of the woodwork in his death, "The Emancipating Death of a Boring Engineer" has plenty of humor with its own take on the romance, very much recommended reading. "
— Midwest Book Review, February 2013
"This is certainly one way to go out. (...) A love triangle of the strangest kind. (...) You might find yourself charmed by a so-called boring engineer."
— ForeWord Reviews, October 2012 (Read Full Review)

"The title may be misleading - the engineer in question is anything but boring. Instead he is well-read, thoughtful, poetic, eccentric, and dead. (...) The plot is held together by banter, the addition of romantic interests and colorful characters, and wit, but the true gems of the book are found in the reflections of the engineer upon his own imminent death. (...) I liked reading the book because it made me feel clever about myself for getting it (a little like "Zen of Motorcycle Maintenance"?), but that's not to say this is a dry or philosophical book. There is a lot going on and plenty for the average reader to enjoy. "
— Amazon.com Reviewer, November 2012 (Kindle Edition)

"The book does not disappoint, and really picks up as it goes along. Travel the world through the eyes of an ex-engineer's wife as she unwillingly follows the directions of her deceased ex-husband. Along the way, meet characters of all sorts: whimsical, satirical, sexy, and even borderline insane, all whom expose the human condition under a different light and give new meaning to life... and death. The deceased ex-husband feels very much alive throughout the book and the author finds a way to carry the reader through a gamut of emotions, from laughing to (I admit) crying. This was definitely an interesting and entertaining read. "
— Amazon.com Reviewer, November 2012 (Print Edition)

Truly delightful (...) A sweet and poignant testimonial to love. (...) Well worth reading.
— Alice DiNizo for Readers Favorite (Read Full Review)
"The Emancipating Death of a Boring Engineer tells a compelling, and, at times, funny story. The characters learn to value the important things in life rather than being blinded by the minutiae. (...) An entertaining read. "
— San Francisco Book Review, December 2012
"A story with an intriguing premise, and one that is rife with wonderful engineering references. (...) What other novel speaks lovingly of pi, the Sons of Martha, tetrahedrons, and formulae from Archimedean to Pythagorean?"
— Canadian Consulting Engineer, April 2013

"The story grasped my attention from the first pages. (...) The author has portrayed brilliant characterization and created a canvas of excellent plot and equally marvellous characters."
— Amazon.com Reviewer, October 2012 (Kindle Edition)
Interviews
Coming Soon.
Notable Facts
Studies conducted in controlled environments by unbiased experts have demonstrated that people who read "The Emancipating Death of a Boring Engineer" had a greater probability of seeing all their wildest dreams come true. Be sure to experimentally verify this odd phenomenon with the people you love.

Note: This "Michel Bruneau" should not be confused with his namesakes who have written books on acoustics, mathematics, or history, and most certainly not with the one who has written cookbooks (the birthday cake the author of "The Emancipating Death of a Boring Engineer" once lovingly baked for his wife made her wonder if he was trying to poison her, so don't bother asking him for recipes).